2020 Faculty Fellow Awards in Biological Sciences
Congratulations to the recipients of the 2020 Faculty Fellow in Biological Sciences Awards.
The awards, which are given to current faculty members in the Division of Biological Sciences, recognize excellence in scholarship across the teaching, research and service missions of the Division consistent with the university's core values of respect, responsibility, discovery, and excellence.
These faculty awards are made possible through generous contributions from alumni, friends, and faculty of the Division of Biological Sciences.
David B. Dunn Faculty Award in Plant Biology
Dr. Mannie Liscum studies how plants alter their growth and development in response to subtle and rapid environmental changes. Over the course of his career, his work has advanced biologists' understanding of the genetic and biochemical components affecting how plants respond to light. Among other discoveries, he found that light-sensitive receptors within a plant can signal other parts of the organism, influencing factors such as water usage and defense mechanisms. These findings could aid scientists working to engineer crops that are better able to withstand drought and disease. Liscum was elected a Fellow of the American Association for the Advancement of Science in recognition of his scientific contributions to plant biology.
The David B. Dunn Faculty Award in Plant Biology, established from an endowment given by Dr. Dunn to the university, rewards excellence in plant biology research and teaching. Dr. Dunn was on faculty in the Department of Botany (now, Division of Biological Sciences) from 1967 to 1987. His teaching and research activities were in the area of plant taxonomy and plant ecology. He was particularly interested in the genus Lupinus. During his tenure at MU, he established the Dunn-Palmer Herbarium collection, which now resides at the Missouri Botanical Gardens, and also was instrumental in designing and establishing the plant populations in the Tucker Hall teaching greenhouse.
Dr. Abraham Eisenstark Faculty Fellowship Awards in Biological Sciences
Dr. Paula McSteen studies how ears and tassels grow and develop in corn. Unlike humans, plants can continually grow new organs. Special cells called meristems (analogous to stem cells in animals) are produced along the main stem where the buds or shoots develop. In corn, axillary meristem cells give rise to tassels and ears, the most crucial organs for yield. Which genes control initiation of the axillary meristems and how this process is governed by the hormone auxin have been fundamental questions guiding McSteen's research. In 2017, she was selected for the Mid-Career Excellence in Maize Genetics Award, a national award that recognizes scientists with an outstanding record of discovery research.  Dr. McSteen loves to share her passion for genetics with students in the classroom and in the lab. In both arenas, she believes "genetics is learned by doing," so she places a strong emphasis on solving genetic problems using real world examples. Last year, Dr. McSteen's was named Research Mentor of the Year by MU's Office of Undergraduate Research. According to her students, it's the personal touch that sets Dr. McSteen apart. As one student shared, she is not only an incredible mentor about how to do science but about life in general.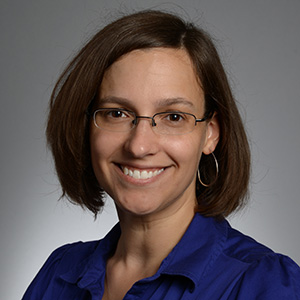 Dr. Libby King investigates how genes shape the effects of different diets. With an RO1 grant from the National Institutes of Health, Dr. King is studying how flies allocate nutritional resources to regulate their lifespan and reproduction, based on the availability of food in their environment. Her group also has a grant from the National Science Foundation to investigate the genetic basis of variation in learning and memory in fruit flies. Dr. King has been singled out for her research with receipt of the 2018 Provost's Outstanding Junior Faculty Research and Creative Activity Award and the 2019 Mr. & Mrs. Shouson & Yunying-Kou Jen Junior Faculty Research Award in Biology. As a teacher, Dr. King is lauded for both the solid content of her courses as well as for her engaging teaching style and persona. She currently teaches an undergraduate course on evolution and a graduate-level course on quantitative methods in the life sciences,  invaluable courses in our curriculum. Her mentoring approach and record reflect her personal and professional commitment to a scholarly community in which all participants feel equally welcome and encouraged to contribute.
Dr. Phillip Hartman (Ph.D. '79) established the Dr. Abraham Eisenstark Faculty Fellowship Award in Biological Sciences in honor of his Ph.D. advisor and mentor Dr. Abraham Eisenstark. The award recognizes and rewards outstanding faculty who, like his mentor, excel in teaching, research, and service.
Mr. & Mrs. Shouson & Yunying-Kou Jen Junior Faculty Research Award in Biology
Dr. Ruthie Angelovici is helping to make the world's seed crops more nutritious. A significant number of people, particularly those in developing countries, suffer from protein-energy malnutrition, which results when diets lack sufficient protein. Populations with diets comprised primarily of cereal grains such as corn, wheat and rice are especially vulnerable, as seeds from these plants are deficient in one or more of the nine essential amino acids required for growth and proper development. Angelovici is working to combat this malnutrition. The composition of amino acids in seeds can vary between types of plants, as well as among cultivars of the same plant. How is the amount and composition of amino acids in seeds determined? Angelovici is leveraging this natural variation in amino acid content, as well as advanced quantitative genetics and bioinformatic approaches, to answer this question in her lab. Many world organizations recognize the importance of biofortification of staple crops — the breeding and genetic modification of plants to boost their nutritional quality — as an important means of alleviating this world health problem. Angelovici's research is expected to yield new genetic targets for future biofortification efforts.
This award was established by an endowment from Professor Philip and Mrs. Betty Jen in honor of their parents. Prof. Jen is a Professor Emeritus in the Division of Biological Sciences and was a member of the faculty from 1975 to 2013. In addition to honoring their parents, the Jens wished for the endowment to promote the research achievements and support the independent careers of junior faculty in the Division.
Richard F. and Sharon A. Keister Faculty Enhancement Award in Biological Sciences
Professor Rex Cocroft eavesdrops on the hidden language of plant-feeding insects. Cocroft studies treehoppers, a diverse group of insects that live on plant stems. Unlike insects that signal one another audibly, like crickets, these tiny bugs communicate by vibrating the stems on which they live. Using specially designed recording and amplifying devices attached to plants, Cocroft converts these insects' vibrations into sound and decodes their messages. He has shown that the vibrations can attract mates, announce the discovery of good feeding sites or signal the approach of predators — demonstrating the richness and complexity of this widespread, yet "hidden" form of social communication. In 2015, Cocroft was part of a team demonstrating that, surprisingly, plants are also listening to these communications. The researchers showed that plants can detect vibrations produced by chewing herbivores and respond by releasing a chemical that discourages the pests. The discovery shows that plants are not passive bystanders. Cocroft is the recipient of the 2018 Insect Drummer Award, given for lifetime achievements in vibratory communication research, and the Animal Behavior Society's 2019 Quest Award, given for outstanding seminal contributions to the science of animal behavior.
As Associate Director of the Division of Biological Sciences, Dr. Gerry Summers leads and coordinates nearly all aspects of our undergraduate curricula.  This includes handling all the assignments for the teaching assistantships, organizing all the staff that run the undergraduate teaching labs, organizing and scheduling the courses that all our faculty teach, training and evaluating the teaching assistants, coordinating the annual teaching evaluations of the faculty, and also mediating issues, conflicts between students and instructors. Additionally, Dr. Summers has been heavily engaged in and a long-time supporter of several campus-wide programs, including the Campus Writing Program; the Summer Transition Program; the Chancellor's Committee on Student Conduct; the Academic Retention Services Advisory Board; and the College of Arts and Science Curriculum, Instruction and Advising Committee. He reviews manuscripts for the Journal of College Science Teaching and American Biology Teacher and has served the 4-Year College Section of the National Association of Biology Teachers as Secretary-Treasurer, Vice-President, and President.
The Richard F. and Sharon A. Keister Faculty Enhancement Award in Biological Sciences was established by Richard Keister, BA '61 Mathematics, and Sharon Austin Keister, BA '61 Zoology.