Seniors awarded honors for research
John (Jack) Baumann carried out research under the supervision of Dr. Aaron Stoker in the Department of Orthopedic Surgery in the School of Medicine. His research focused on whether a common injectable treatment for osteoarthritic pain is cytotoxic to osteoarthritic cartilage. His work also examined the effect of this treatment on cartilage viability when different levels of cartilage damage are present.
"Jack is one of the most dedicated, self-motivated, and thoughtful undergraduate students I have ever mentored," said Stoker. "Every project he was a part of in the lab was better because he was working on it. I have enjoyed watching Jack grow during his 4 years at Mizzou, and can't wait to see all he will accomplish in medical school and beyond.
Ronel Ghidey carried out research in the lab of Dr. Elizabeth King in the Division of Biological Sciences in the College of Arts and Science. His project examined the genetic basis of thermotolerance in animals like the fruit fly (Drosophila melanogaster) whose body temperatures change with ambient temperature. By using a distinct population of laboratory-evolved flies, Ghidey was able to begin the process of identifying genes associated with variability in heat tolerance by employing RNAseq approaches to identify splice variants and isoforms in low- and high-heat tolerant lines of flies.
"It has been a joy to have Ronel as a member of the King lab for the past two years," said King. "He is always pushing himself to be better and making sure he gets the most out of every opportunity that comes his way. I know he will bring the same attitude to what will surely be a bright future in public health."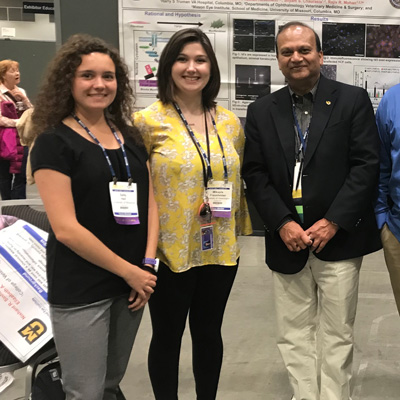 Sally Heil carried out research in the lab of Dr. Rajiv Mohan in the Department of Ophthalmology in the School of Medicine. Her project focused on the impacts of corneal injury and potential ways to improve therapeutic approaches to treating corneal trauma, injury, and infection. Her research addressed the question of whether targeting specific genes in the differentiation of myofibroblasts could serve to prevent fibrosis after injury or corneal transplant. By characterizing the expression of these proteins with different treatments, this work may impact long-term approaches to developing new treatments for corneal damage.
"It has been a pleasure to have Sally in the lab for three years. I am proud of her independent and collaborative work in a team environment. She has shown tremendous growth in both, academics and character. Her talent, enthusiasm, and drive will take her far and insure success in career and life. Sally has all traits to convert her dreams into reality," said Mohan. "Mary, I wish you all the best in life."
Eyram Kpenu carried out research in the lab of Dr. Scott Peck in the Department of Biochemistry in the College of Agriculture, Food, and Natural Resources. His project took a novel perspective on plant immunity. While most research focuses on plant immunity from the perspective of the processes involved in plant cells, Eyram's examined the plant-pathogen interaction from the perspective of the pathogenic bacteria. He examined how plant metabolites may play a role in bacterial biofilm formation after pathogenic bacteria infect plants by injecting proteins into plant cells through a specific secretory pathway. The results may provide new avenues for generating pathogen-resistant plants.
"It has been a pleasure to see Eyram grow as a scientist over the past four years," said Peck. "His research culminated in his senior project in which he demonstrated that bioactive metabolites from plants induce biofilm formation in pathogenic bacteria, revealing a novel chemical communication between host and pathogen. In addition to this work that will be submitted as part of a paper this month, he has also made a fascinating observation possibly linking control of pathogen virulence to cell cycle."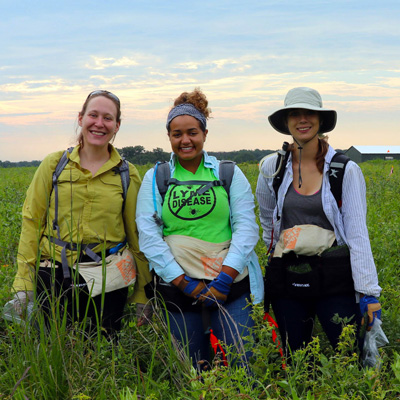 Maya Parker-Smith carried out research in the lab of Dr. Lauren Sullivan in the Division of Biological Sciences in the College of Arts and Science. She collaborated with researchers at the Missouri Botanical Garden who are striving to create a seed bank for every plant species in Missouri. The goal of her project was to determine which storage method will result in the most viable seeds long-term. Currently, MoBOT is either refrigerating or freezing the collected seeds. Maya's work is one of the first attempts to systematically classify which storage method is optimal for seed germination, to ensure the long-term viability of the diversity of Missouri plant species.
"Maya has been a fantastic member of my lab," said Sullivan. "She has embraced all sorts of new things since joining us and has excelled at all of them. She is especially great at seed identification and is well on her way to becoming the best botanist in the state. I will be forever grateful and lucky she chose to work with me in my lab."
Leticia Rivera carried out research in the lab of Dr. Matthew Will in the Division of Psychological Sciences in the College of Arts and Science. Her project was concerned with energy balance in the body as a factor of motivation and food consumption. She investigated the role of sigma-1 receptor agonists and antagonists on the rewarding and motivational properties of natural reinforcers, such as food. By examining the effects of these molecules, there may be pharmacological options  that could help with the motivation of eating in balance with their consumption needs, to influence extra caloric intake and its role in contribution to obesity and related diseases.
"Leticia was a wonderful addition to our lab, and I am sad to see her go," said Will. "She was one of the hardest working undergraduates in the lab and a quick study. She participated in two national conferences, while also finding time to volunteer to help those with physical and intellectual challenges. Leticia, I wish you the best in medical school next year!"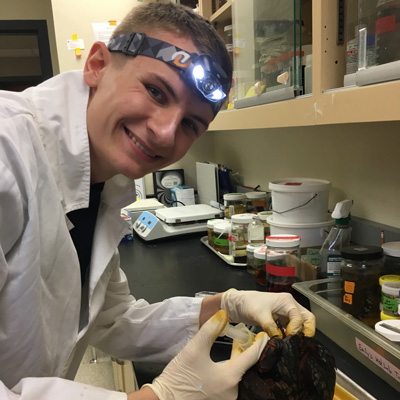 Conner Vernhulst carried out research in the lab of Dr. Casey Holliday in the Department of Pathology and Anatomical Sciences in the School of Medicine. Verhulst used contrast imaging and 3D muscle fiber tracking to explore the morphological and functional significance of the jaw muscles of birds. His looked at differences in functional morphology of jaw muscles at different developmental stages (hatchling and adult) as well as across several species. His 3D, high-fidelity anatomical data helps better illuminate ecomorphological evolution and also illustrates how clades of birds and vertebrates adapt their muscle architecture to meet functional demands.
"From pangolins and parrots to alligators and 80s hair metal, together, Connor and I shared great experiences and made some phenomenal discoveries," said Holliday. "Conner is more a fellow colleague than a student. I cannot wait to see what he accomplishes next!"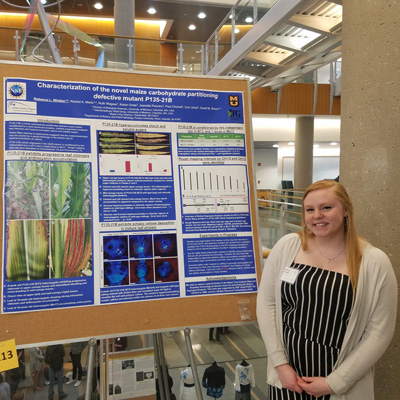 Rebecca Winkler carried out research in the lab of Dr. David Braun in the Division of Biological Sciences in the College of Arts and Science. Her project centered on characterizing a novel corn plant that is deficient in its ability to effectively export sugar] created by photosynthesis in the leaves to other tissues in the plant. Using a combination of phenotypic and genotypic approaches, Rebecca provided the first description of this mutant as well as began to narrow down its location in the maize genome to determine if it is a novel gene associated with carbohydrate partitioning.
"I was so fortunate to have Becca join my lab and to mentor her. She is intelligent, hard-working, focused, motivated, and excited about research," said Braun. "Congratulations, Becca, on everything you have accomplished. I know your future will be very bright and I wish you continued success."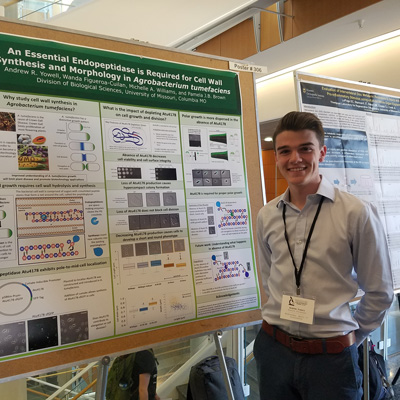 Andrew Yowell carried out research in the lab of Dr. Pam Brown in the Division of Biological Sciences in the College of Arts and Science. He tackled the question of how bacteria are able to elongate and divide, as this mechanism is not the same across bacteria types. His work focused on the polar-growing Alphaproteobacteria, including the model Agrobacterium tumefaciens. In order to grow and divide, bacteria must remodel their cell walls: a process that requires both synthesis and breakdown of cell wall constituents. Andrew characterized an essential enzyme in this process, Atu4178, by mutating this enzyme and examining the effects on polar elongation of A. tumefaciens.
"Andrew was an outstanding student researcher in my lab. His research contributions have big implications for understanding polar growth in Agrobacterium. We will be following up on his observations for years," said Brown. "Andrew, I wish you the best in dental school and beyond!"