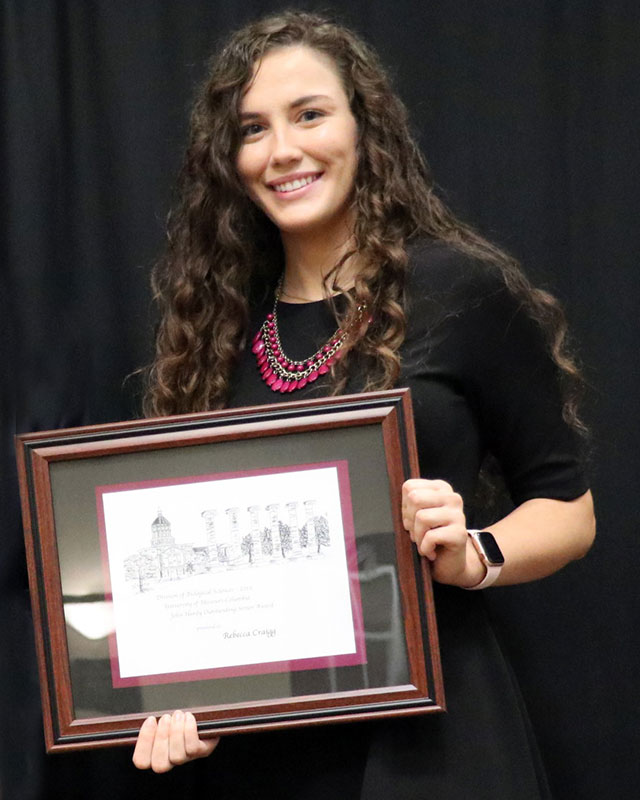 Rebecca Craigg has worked in the lab of Dr. D Cornelison since her freshman year. She has contributed to a project measuring the number, size, and fiber type of muscle cells in wild type, heterozygous, and homozygous knockouts of a protein receptor (read more here). She was supported in her studies by one of the prestigious Cherng Fellowships. Last month, Craigg was selected for this year's prestigious Mark Twain Fellowship, which will allow her to spend the next year at the University of Oxford studying global health science and epidemiology, as well as the Chancellor's Resilience Award. Craigg, who also received the Outstanding Scholar in Biology Award as a sophomore, plans to earn an M.D./Ph.D. and then work in both a surgical and research setting. She also hopes to work with Doctors without Borders.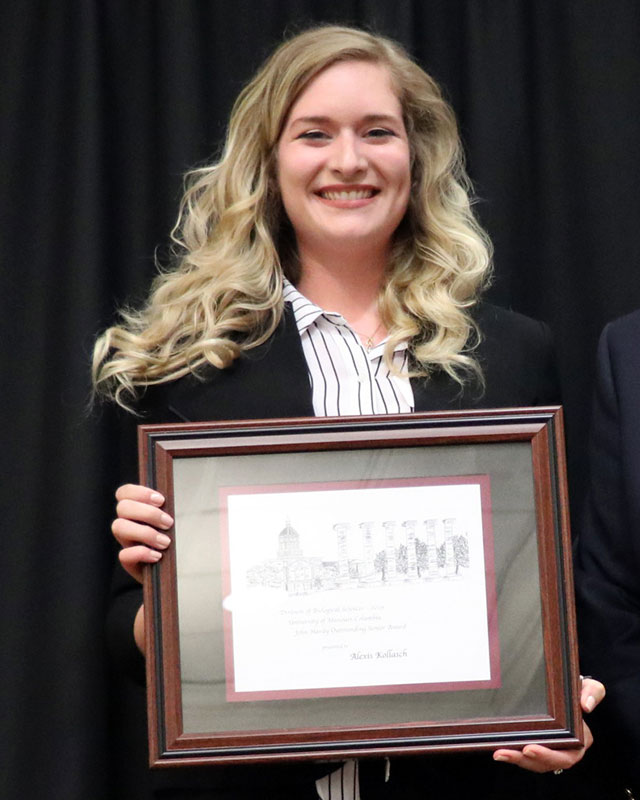 Alexis Kollasch has been working with Dr. Rex Cocroft on research about how plants respond to vibrations from herbivorous insects by upregulating the expression of toxic mustard oils that deter insect feeding. Her particular project has focused on comparing plant responses to different insect species that cause species-specific vibrations. Kollasch has been actively involved in the Phi Sigma Pi honor fraternity and served as the 2018 Initiate Advisor for the fraternity. She also has volunteered at a memory care unit of a local nursing home where she interacts with Alzheimer's patients. Kollasch received the Outstanding Scholar in Biology Awards as a sophomore as well as a junior. She also was one of ten MU juniors selected for early induction into the national Phi Beta Kappa honor society. Kollasch is taking a gap year and then will go on to medical school.
Brittney Marshall has been working in the lab of Dr. Cheryl Rosenfeld in the Department of Biomedical Sciences. She is co-author on a paper published in PLOS One, is the first author on a paper that is currently under review by the Journal of Endocrinology, and is working on a third paper on which she will be once again the first author. At last year's MU Life Sciences Week, her poster won first place in the Social & Behavioral Sciences category despite the fact that many of her competitors were graduate students and postdoctoral fellows. She was also selected to represent MU student researchers by presenting her research at the State Capitol to legislators. Outside the lab and classroom, she has been active in the Peer Undergraduate Mentor Program, Granny's House, MizzouThon, Mizzou Alternative Break, and a therapeutic riding center. She is a member of Mortar Board, a national honor society that recognizes college seniors for the exemplary scholarship, leadership, and service.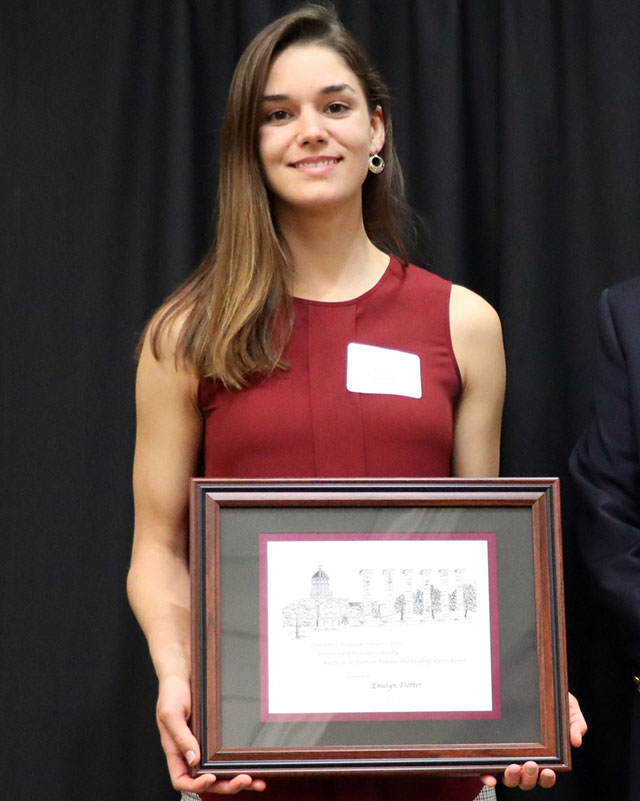 Emelyn Piotter has been working in the lab of Dr. Candi Galen on a project investigating the coevolution of pollen sculpture adaptations in insect-pollinated plants and hair traits affecting pollen pick up by flower visiting bees and flies. Her research involves a combination of light microscopy, scanning electron microscopy, sophisticated statistics, and field research in the Rocky Mountains. She has been supported in her work by one of the prestigious Cherng Scholar Fellowships and recently received a grant from the Mountain Area Land Trust to continue doing fieldwork this summer. Her future plans include graduate school and a career as a professional scientist.
Victor Thahn Sy carries out research in the lab of Dr. Patrick Shiu on a project involving gene silencing in the model fungal organism Neurospora crassa. His efforts have earned him a co-authorship on a paper that is currently in preparation. He has worked as a science ambassador for several elementary classrooms, where he helped fourth graders isolate DNA from fruit. He was recently accepted into the Phi Beta Kappa Honor Society. Sy will be joining the Division of Biological Sciences as a PhD student next year.