February 10, 2021
News Source
Mizzou Biology
The Division of Biological Sciences welcomes Katie Chaumont as the new caretaker of Tucker Greenhouse. Chaumont has been with DBS since 2018, first as a part-time assistant in Tucker Greenhouse and then as a technical assistant with the Schul lab. Her responsibilities were expanded to include care of the greenhouse on January 1.
Chaumont earned her Bachelor of Arts degree in English from Truman State University in 2002. It was at Truman that she also gained an appreciation for plants.
"I took botany my sophomore year to fulfill my science requirement. We had to plant something and take care of it in Magruder Greenhouse, which, at that time, was an older teaching greenhouse much like Tucker Greenhouse. I enjoyed the experience so much that I started volunteering and eventually ended up becoming student manager of the greenhouse," she recalled.
After graduation, Chaumont started her own plant collection and also began designing terraria at her home in Columbia. She discovered Tucker Greenhouse during a visit to a campus plant sale and wandered in to have a look.
"I loved it right away. It reminded me of the old Magruder Greenhouse," she said.
Chaumont does not remember if she met Barb Sonderman during that initial visit or just saw her email on the door. In either case, she does recall that she went straight home and zipped off an email to Sonderman, asking if she could volunteer in the greenhouse. Sonderman agreed, and Chaumont started coming in a few times a week to help clean the greenhouse and water the plants. Sonderman soon began teaching her about the diverse plants housed in the greenhouse.
"Barb not only welcomed me into the greenhouse but also taught me so much. I have received much valuable plant knowledge from her, and she always offered it with such infectious enthusiasm. I couldn't help but love plants a little more when she talked about them," Chaumont said.
Chaumont soon picked up additional duties with the greenhouse and was subsequently offered a part-time position. One of her new responsibilities was to grow grass for katydids used in experiments, which is how she started working with the Schul lab. "I am basically the lab's bug keeper," she said. "The age and sex of the insects are critical. They have to know when they turn into adults for their experiments. I do a lot of sorting, checking, feeding and cleaning, and I continue to grow the grass for the insects."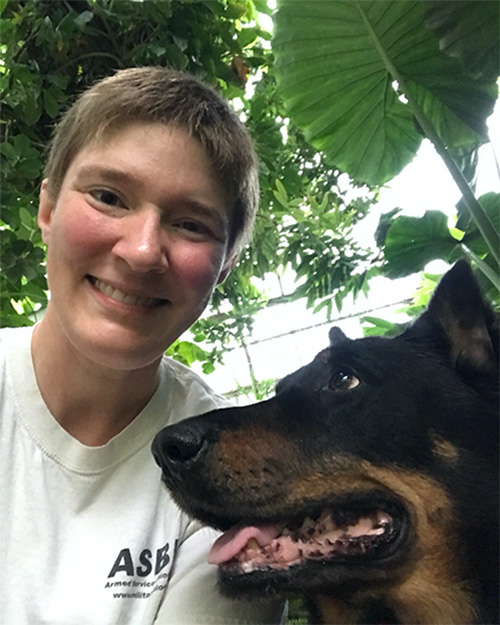 Chaumont is excited about taking on more responsibility for the Tucker Greenhouse. She longs for the day when visitors are a regular occurrence in the greenhouse. "Educating people about plants is the best part of working in the greenhouse. I've always really enjoyed teaching people about living things and how to care for them. I really look forward to giving tours and talking to people who wander into the greenhouse."
In the interim, she is posting daily images of blooming plants on Teams and has plans to start a social media presence for Tucker Greenhouse on Twitter and Instagram.
In addition to plants, Chaumont enjoys hanging out with her husband, Joe, and her son, Theo. She also likes quilting, reading, and spending time with her many pets—particularly Spur the Beauceron.
The Tucker Greenhouse is open to visitors Monday through Friday from 8:30 AM to 2:30 PM. Currently, no more than 5 people are allowed in the greenhouse at one time.