Two Biological Sciences Majors Honored for Academic Distinction
May 04, 2021
Marcus Wilkins
News Source
Office for Undergraduate Studies
The Division congratulates Benjamin Jones and Dominique Joseph on being selected for the 2021 Award for Academic Distinction. The two graduating Biological Sciences majors are two of only 15 students selected from across campus for this campus award, one of the highest honors MU offers based on academic distinction alone. This prestigious honor was established in 2014 by a group of students to celebrate fellow Tigers who have gone above and beyond expectations. 
Ben Jones is a senior Biological Sciences major, with minors in Chemistry and Black Studies, from Hebron, Kentucky. As a member of the MARC/IMSD program for four years, Ben has been in the lab of Dr. Erika Boerman, in the department of Medical Pharmacology and Physiology, since the fall of 2018 researching the effects of Inflammatory Bowel Disease on blood flow in the intestines of mice. Ben's project looks at two metalloproteases and their role in the overall pathway of impaired vasodilation. He has presented his work on numerous occasions, including winning an Outstanding Poster Presentation award at the 2019 Annual Biomedical Research Conference for Minority Students in Anaheim, California. He has been published as an author with Dr. Boerman twice. Ben has also been a peer mentor for the IMSD program for the last two years, helping science majors find opportunities in research. Last semester, Ben was a teaching assistant for the Honors Experience FIG class, taught by Dr. JD Bowers. Ben has also been involved in Minority Association of Pre-Health Students, as the Treasurer and Vice President, Pre-Med Society, and has been a volunteer at the University Hospital. He and his twin brother, Andrew, were honored to be recipients of the Mizzou '39 award together. Ben is extremely proud to be the youngest in an entire family of Mizzou Tigers. This July, Ben will begin his medical school journey at the University of Kansas.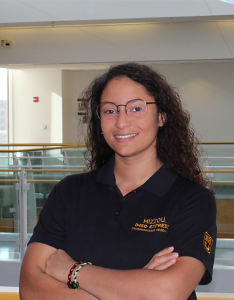 Dominique (Nicki) Joseph  is a senior double majoring in Biological Sciences and German. She has a passion for scientific research. In her freshman year, Nicki joined MU's Initiative for Maximizing Student Diversity (IMSD), which allowed her to begin conducting research as a first-year student. Currently, Nicki works in a Biochemistry lab under Dr. Charlotte Phillips, researching the interactions between muscles and bone as they relate to brittle bones disease. Nicki is a member of the Tri-Beta biological honors society and MARC/IMSD research program. In September 2019, Nicki won her first poster presentation award at the Annual Biomedical Research Conference for Minority Students. Since then, she has presented her work seven times and has won two national presentation awards. She has also spent a year and a half mentoring other minority students in STEM and is passionate about her role as a mentor. As a MARC scholar, she has enjoyed bonding and growing with other underrepresented individuals in STEM and aims to continue supporting other minority students as a mentor in graduate school. After graduation, Nicki will attend the Ohio State University to pursue her PhD in Entomology. She aims to research insects and vector borne diseases at the Center for Disease Control one day.