Tom Phillips' 32-year legacy to ALM Core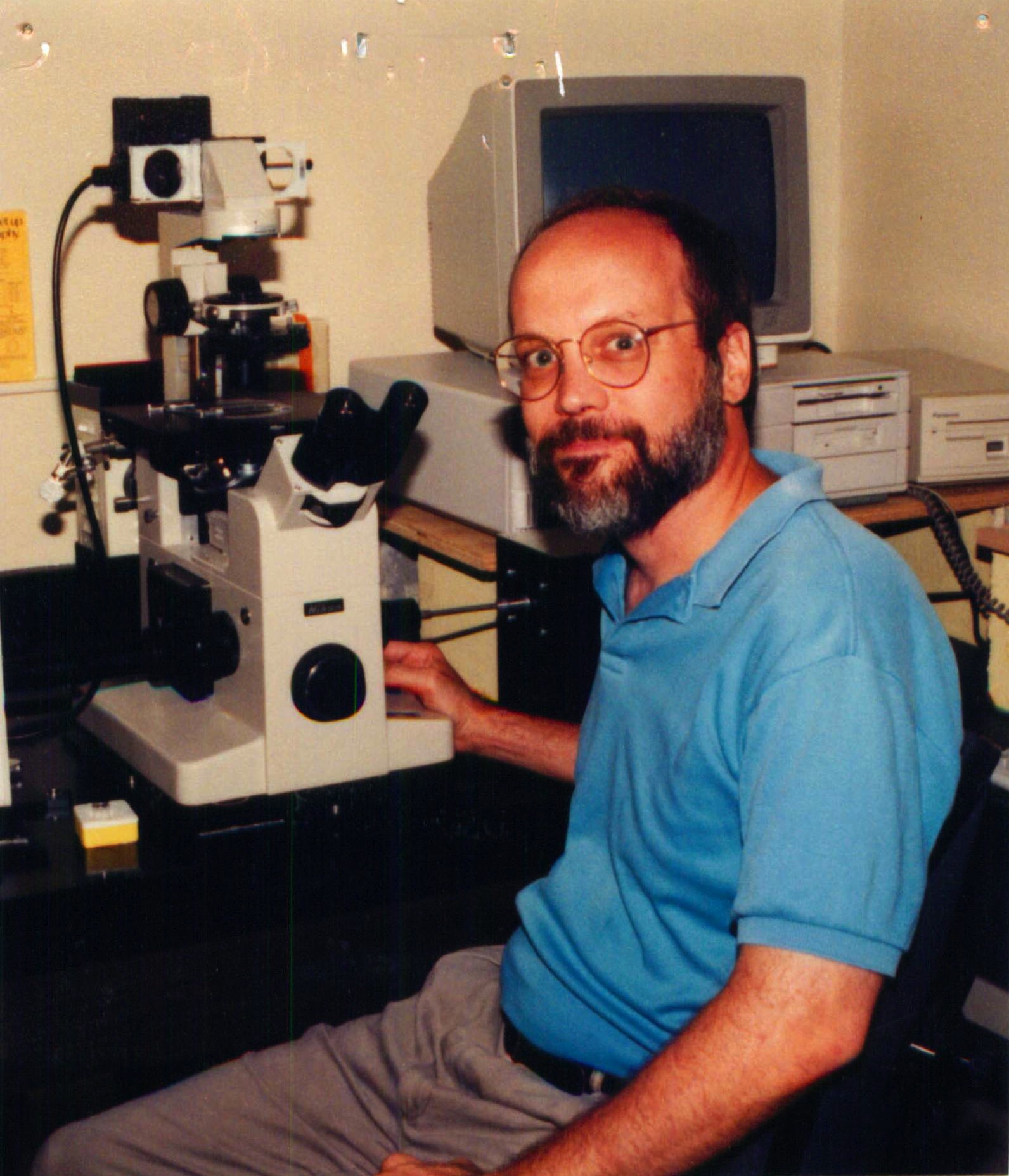 Still, instead of keeping "all the magic" to himself, as Phillips puts it, he found a way to bring the advances in microscopy to researchers across campus. In 1991, Phillips proposed the creation of a campus-wide Molecular Cytology Core where all faculty would have access to the latest widefield and confocal microscopes along with staff to train their graduate students and postdoctoral fellows. The idea was enthusiastically supported by members of the interdisciplinary Molecular Biology Program on campus. The original core, which was installed in the basement of Tucker Hall, included a BioRad MRC-600 confocal fluorescence microscope with a computer graphics system and a variety of low light video microscopes, which were acquired by Phillips with an instrumentation grant from the National Science Foundation.
In 2004, the core moved to the first floor of the Bond Life Sciences Center, where it still resides. Over the years, Phillips has continued to secure funding needed, both on and off campus, to keep the core equipped with the latest technology. Earlier this month, he announced the acquisition of a new cryostat (Leica CM3050 S), a new 3D ultramicrotome (Leica ARTOS), and a software upgrade that allows investigators to deconvolve wide-field fluorescence images acquired in their home lab. For Phillips, keeping abreast of the advances and offering researchers the newest tools is a primary research directive of the core.
"Our cores are one of the things we do best on this campus to promote the success of junior faculty members. We give them access to whatever they need to succeed, so they're never limited by resources. It's really open to the entire community and funded quite widely by the community too," he says.
There can be few better examples of the adage 'build it and they will come' than the ALM. Since the very beginning, a steady stream of students and postdocs have found their way to the core to learn how to use the new equipment. Phillips says training has been a fundamental principle of the core since it was founded.
"It's always been about giving people access to the machines and letting them use it and acquire that knowledge and skills," says Phillips. "I have always felt it was essential for people to be actively engaged in personally collecting the images that form the foundation of their research rather than simply paying core personnel to generate the images."
Last year alone, the ALM served over 200 users from ~90 labs across campus. Many of those users are undergraduates, graduate students, and postdoctoral fellows, a fact that makes Phillips proud but for which he will not take credit. For the latter, he points to the core's staff.
"We have had many exceptional staff members over the years, including Mike Stanley, Mayandi Sivaguru, Elizabeth Norton, Jessica Wagner, Esteban Fernandez, and the current team of Alexander Jurkevich and Frank Baker, along with a host of junior staff members, who did all the real work in the trenches that have made the core a success," Phillips says.
As for his own legacy, Phillips hopes he is viewed as "an evangelist of light microscopy."  
"I love imaging. I think it's the coolest part of science. I like to think that I contributed to more people using microscopy in their research programs and to more graduate students and postdocs adding this essential scientific tool to their repertoire of skills," he says.
"The entire research campus owes a great debt to Dr. Phillips and his tireless dedication and commitment to the ALM Core," says Dr. David Schulz, Professor and Chair of Biological Sciences. "The core has had a major impact on both the research and teaching missions of the university and made—and continues to make—Mizzou a great place to do science."