8 Biology Students Selected for Mizzou 39 and Mizzou 18 Awards
Congratulations to the following Biological Sciences students on being selected by the Mizzou Alumni Association Student Board for the Mizzou 39 and Mizzou 18 Awards.
The Mizzou 18 Award is given to 18 graduate and professional students, in the last year of their degree, in recognition of their world-class research, collaboration with faculty and staff, and leadership with undergraduate students. This is the first year a biological sciences student has been selected for this award. Congrats, Benton!
"Benton has brought a remarkable skill set to the Division. On the research side, he has struck out in new and novel directions: by working on a new class of proteins that allow for novel ways to change neuron activity and also by bringing neural imaging and systems approaches to the rodent bladder circuitry. He also has been part of a team that has re-imagined and implemented substantial changes in our Animal Physiology labs (of their own volition by the way) and overseen the execution of those changes. His service and advocacy on and off campus makes him one of the most well-rounded graduate students I've had the pleasure to work with at Mizzou." Dr. David Schulz, Professor of Biological Sciences
The Mizzou 39 Award is given to 39 outstanding seniors, across all majors, in recognition of their academic achievement, leadership, and service to the University of Missouri and the community. 
"Zayd, is an exceptional young man. Since our first meeting, several years ago, he has been a non-stop force on the Mizzou campus. His commitment to academic excellence is second to none. This is evident in his inquisitive nature and motivation to always be ahead of deadlines. He has been inspired by his faith and person-centered character to be an active voice for oppressed communities, especially those experiencing health-care inequities. He has worked extremely hard and remains humble in the recognition of his success. I am over the moon about this honor for Zayd! He is well deserving." Robin B. Clay, M.Ed.
"Throughout the time I have known Taylor, I have been extremely impressed with her passionate ambition to pursue a career in medicine. Towards this goal, she has successfully maintained a perfect GPA and is highly involved in extra-curricular activities, both on campus and in her community...She has shown herself to be a hard worker who is reliable and compassionate. She has a pleasant personality and a strong sense of social responsibility. I will say without hesitation that Taylor is among the very best students I have been privileged to have work in my laboratory, and I am honored to be her mentor." Dr. Salman M. Hyder, Endowed Professor of Biomedical Sciences
"I have the privilege to teach a class full of high achieving, motivated students. Dylan clearly stood out from his peers, which is a testament that he is truly an exceptional student. Dylan is passionate about learning. Answering one question only piques his curiosity resulting in many follow up questions...The only thing that exceeds Dylan's ability as a student is who Dylan is as a person. He is a passionate advocate for many worthy causes, and he gives voice to those who otherwise could be lost. I am lucky to have been a small part of Dylan's Mizzou experience." Dr. Michael Garcia, Associate Professor of Biological Sciences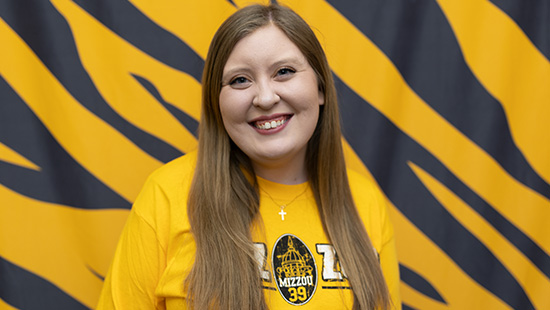 "During her time at Mizzou, Alexis has shown time and time again what it means to not allow our challenges to define us and how to learn and grow in the face of adversity.  In spite of the challenges she has faced, Alexis has continued to be an active member of all the communities of which she is a part, working to make those communities better now and in the future.  She has continued to remind me that being a part of students' growth and discovery is what I love most about what I do." Ashley L. Anderson, Ph.D. candidate and Graduate Instructor of English
"Morgan is the type of student who consistently and attentively tackles responsibilities regarding her academics, personal and professional development with a high level of dedication. During her time at Mizzou, Morgan has taken full advantage of opportunities and resources to successfully matriculate as a student at Mizzou through her involvement in programs such as the Mizzou Black Women's Initiative, Women of Color, Honor and Ambition and others. Morgan is a focused, determined and adaptable individual who goes above and beyond to make Mizzou a welcoming place. She truly exhibits the traits and characteristics of a true MIZZOU TIGER!" Velma Buckner, Assistant Director for Undergraduate Programs & Outreach Initiatives, Office of Inclusion, Diversity, and Equity